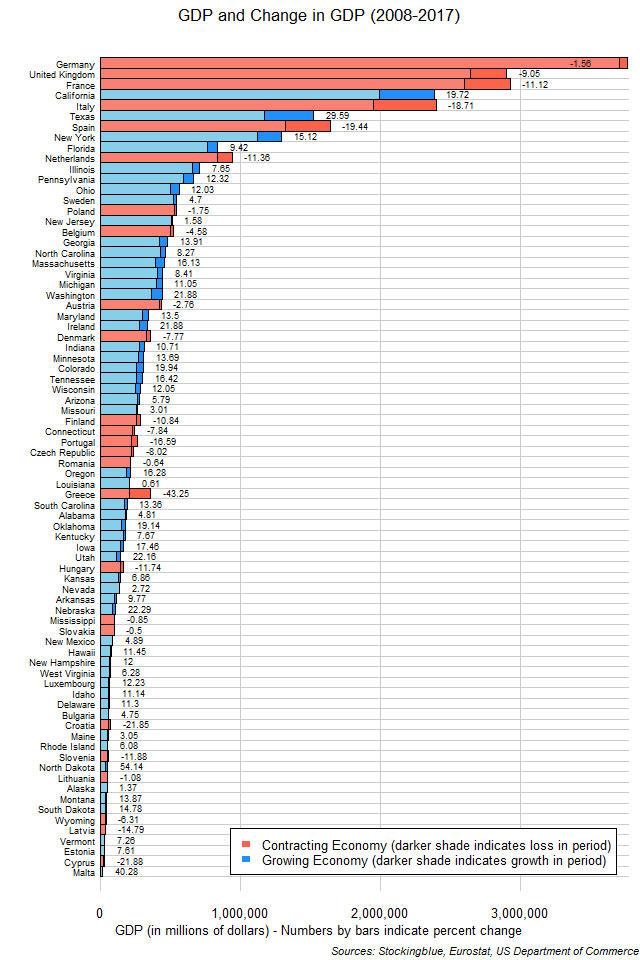 The chart above shows the GDP and change in GDP over the last ten years in EU and US states in US dollars. Although the three largest economies all shrank in the ten year period, they managed to remain the three largest economies, even though the second and third largest economies swapped places.
Findings
The difference between the state with the greatest absolute growth in GDP, California, and the state with the least, Alaska, is $392,507,000,000.
California has 617 times the absolute economic growth that Alaska does in the past ten years.
Only six EU states grew when measured in US dollars over the ten year period (in descending order of absolute growth): Ireland, Sweden, Luxembourg, Malta, Bulgaria, and Estonia.
Conversely, only three US states contracted when measured in US dollars over the ten year period (in ascending order of absolute contraction): Mississippi, Wyoming, and Connecticut.
The United Kingdom and France have swapped second and third place in GDP over the past ten years as they often do.
California overtook Italy, Texas overtook Spain, and Florida surpassed the Netherlands.
Ohio surpassed New Jersey, Sweden, Belgium, and Poland in the ten year period, while Sweden overtook Belgium and Poland. Belgium also fell below New Jersey.
Georgia has surpassed North Carolina and Austria.
Massachusetts has surpassed Virginia, Michigan, and Austria. Austria additionally fell below Washington.
Maryland overtook Denmark and Greece.
Ireland overtook Indiana, Finland, Denmark, and Greece.
Indiana and Minnesota surpassed Finland and Greece.
Colorado surpassed Missouri, Tennessee, Arizona, Portugal, Finland, and Greece.
Tennessee surpassed Arizona, Portugal, Finland, and Greece.
Wisconsin surpassed Missouri, Arizona, Portugal, Finland, and Greece.
Missouri overtook Finland, Portugal, and Greece.
Connecticut surpassed Portugal and Greece.
The Czech Republic and Romania surpassed Greece.
Oregon surpassed Louisiana and Greece.
Louisiana surpassed Greece.
South Carolina overtook Alabama.
Oklahoma overtook Hungary and Kentucky.
Iowa overtook Hungary.
Utah overtook Kansas, Nevada, and Hungary.
Kansas surpassed Nevada.
Nebraska surpassed Slovakia and Mississippi.
Hawaii, West Virginia, and Idaho overtook Croatia.
New Hampshire overtook West Virginia and Croatia.
Luxembourg overtook Idaho and Croatia.
Delaware and Bulgaria overtook Slovenia and Croatia.
Maine and Rhode Island overtook Slovenia.
North Dakota surpassed Latvia, South Dakota, Montana, Wyoming, Alaska, and Lithuania.
North Dakota surpassed Latvia, South Dakota, Montana, Wyoming, Alaska, and Lithuania.
Montana and South Dakota overtook Wyoming.
Vermont and Estonia overtook Cyprus.
Caveats
All percentages are rounded to the nearest hundredth.
EU and US data come from different sources.
EU data was converted from euros to dollars at the average 2008 0.68 euros to dollars rate and the 2017 0.88 euros to dollars rate.
Details
Only two EU states surpassed US states' economies in the ten year period: Ireland surpassed Indiana and Luxembourg overtook Idaho. Aside from that all other changes were either between EU states, US states, or US states overcoming EU states.
Although Malta had the highest relative growth in the same period, it still remains the smallest economy in both superstates. The greatest absolute growth was in California.
While Greece had the greatest relative contraction, Italy had the greatest absolute contraction.
The United States as a whole grew by $1,982,473 million over the ten year period while the European Union as a whole priced in US dollars shrank by $1,797,678 million.
Sources
Eurostat. 2018. "Eurostat - Tables, Graphs and Maps Interface." Accessed June 26, 2018. http://ec.europa.eu/eurostat/tgm/table.do?tab=table&init=1&language=en&pcode=tec00001&plugin=1.
US Department of Commerce. 2018. "US Bureau of Economic Analysis." Accessed June 26, 2018. https://bea.gov/itable/iTable.cfm?ReqID=70&step=1#reqid=70&step=10&isuri=1&7003=1000&7035=-1&7004=naics&7005=1&7006=01000,02000,04000,05000,06000,08000,09000,10000,11000,12000,13000,15000,16000,17000,18000,19000,20000,21000,22000,23000,24000,25000,26000,27000,28000,29000,30000,31000,32000,33000,34000,35000,36000,37000,38000,39000,40000,41000,42000,44000,45000,46000,47000,48000,49000,50000,51000,53000,54000,55000,56000&7036=-1&7001=11000&7002=1&7090=70&7007=2017,2016,2015,2014,2013,2012,2011,2010,2009,2008,2007,2006&7093=levels.