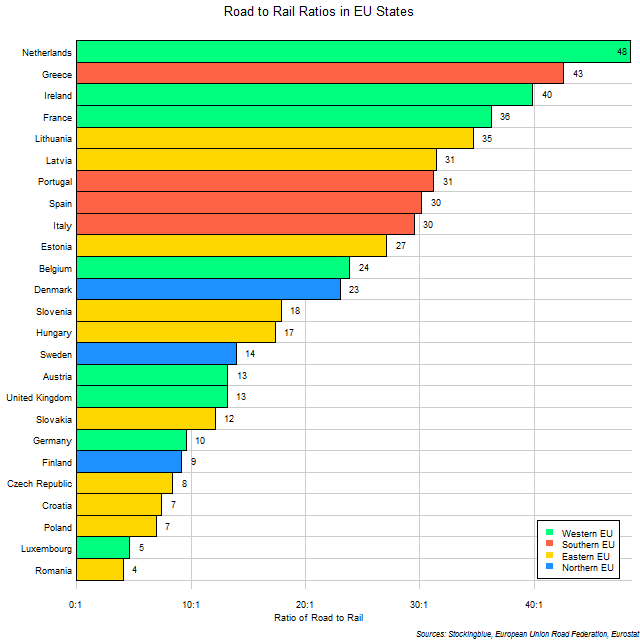 The chart above shows the ratio of the road network to the rail network in every EU state. The larger the ratio, the more prevalent roads are over rail in the state. For instance, the Netherlands has 48 more kilometers of road for every kilometer of rail. Only two states have a disparity of over 40:1 between the length of their road and rail networks: the Netherlands and Greece.
Findings
The difference between the state with the largest ratio, the Netherlands, and the state with the smallest ratio, Romania, is 44.
The Netherlands has 12 times the road to rail ratio that Romania has.
Every Southern EU country has a road network that is at least 25 times longer than their rail network.
Every Northern EU country has a road network that is less than 25 times longer than their rail network.
The mean ratio of 25 (Bulgaria is excluded due to lack of data, and Cyprus and Malta are excluded due to no rail networks) states is 21.44:1 and the median 17.88:1.
Caveats
Road length data is from 2008 except for Denmark which is from 2006, and Italy and Portugal which are from 2005.
Rail length data is from 2016 except for Belgium (2009), Denmark (1998), Greece (2015), the Netherlands (2003), Austria (2007), and Poland (2015).
Bulgaria is not included because it did not have complete data in the road data set.
Cyprus and Malta are not included because they do not have rail networks.
Details
All of the Eastern EU countries save for the Baltics have a road to rail ratio of 20:1 or less. It is surprising to see that seven states have a road network that is less than ten times larger than their respective rail network and these countries exist in every region of the EU except one: the Southern EU which also tends to have the highest vehicle ownership rates.
The ratio for the entire European Union (except for Bulgaria which is missing data) is 16.59 kilometers of road for every kilometer of rail which ranks the EU as a whole just under Hungary and above Sweden (the figures in the chart are rounded to the nearest whole number).
Sources
European Union Road Federation. 2011. "European Road Statistics 2011." Accessed March 12, 2018. http://www.irfnet.eu/images/stories/Statistics/2011/ERF-2011-STATS.pdf.
Eurostat. 2018. "Eurostat - Data Explorer: Railway Transport - Length of Tracks." Accessed March 20, 2018. http://appsso.eurostat.ec.europa.eu/nui/submitViewTableAction.do.